August 2015
Volume 10, Number 8
From the CIO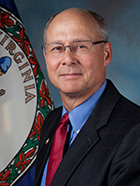 CIO Nelson Moe
The Commonwealth of Virginia Innovative Technology Symposium (COVITS) 2015 is fast approaching. COVITS provides a big picture look at IT in the commonwealth. It will be held Sept. 9-10 at the Hilton Short Pump in Richmond.
Secretary of Technology Karen Jackson opens this year's event and welcomes Gov. Terry McAuliffe, who will make remarks.
Three exciting keynote sessions are set. First, master impressionist and communication coach Jim Meskimen brings creativity and humor to help "Find Your Voice." After lunch, the general session "Breach! When Bad Things Happen to Good People (And Their Organizations)" will help in preparation for potential cybersecurity incidents. Anthony Huey, president of Reputation Management Associated, will lead the final keynote "Communicating in a Crisis – 30 Years of Work Destroyed in 30 Seconds."
This year's breakout sessions again will challenge attendees to choose from outstanding offerings, including: "Cyber Virginia," "Mobile Apps the Smart Way," "Enterprise Analytics," "Next Generation Contracts and Partnerships," "Internet of Things," "Next Generation Workforce," "Information Governance" and "You've Been Breached. Now What?"
Other highlights include a lunchtime session showcasing the work of teams in the Datathon Open Data Challenge, and the annual presentation of the Governor's Technology Awards.
Fast track topics have become hugely popular; this year's 20-minute spotlights include "Game of Drones," "Next Gen 911" and a wrap up focusing on "Innovation and Ideation."
I hear great things about this event and look forward to attending for the first time. VITA will have a booth describing its Web applications vulnerability scanning, which is available to both state and local governments. I hope to see you there.
Register for COVITS
Nelson
IT infrastructure assessment finds positives, negatives with current arrangement
Integris Applied, in its work to develop a sourcing strategy for IT infrastructure services when the current contract expires in 2019, has developed some key observations in the assessment phase. Those observations have been shared with VITA, the Information Technology Advisory Council (ITAC), IT Strategy Sourcing Steering Committee and other stakeholders. Some of the observations include:
Agency leadership (agency heads/commissioners and their direct reports) recognize the need for, and support, an enterprise approach to technology management. There is little, if any, desire to return to a model where services are managed by individual agencies. At the same time, they agree that there is both dissatisfaction with the current delivery model and a desire for VITA to make changes.
Agencies do not believe the IT infrastructure services partnership understands or appreciates the impact of service delays, disruptions or unplanned changes on agency operations.
Agencies perceive that services are much more expensive than what currently can be purchased in the market.
Any changes will require decisions on three key policy areas: disposition of assets, data centers and personnel. There is an understanding of the strategic and financial implications. There is a desire to retain more management control over IT expenditures in a future model.
There is a need for VITA's leadership role in the enterprise. VITA has an opportunity to clarify its role in the enterprise, involve customers on improvement projects and develop a management framework for a new service delivery model that engages agency customers.
15 agencies will join VITA in annual full-scale DR exercise
VITA is preparing for the annual full-scale disaster recovery (DR) exercise scheduled to begin Aug. 10. The test scenario will involve the simulated destruction of the primary data center – the Commonwealth Enterprise Solutions Center (CESC) -- in Chester. Measures of whether the test is successful will include time to recovery of infrastructure services and applications.
Participating agencies include: Accounts, Compensation Board, Comprehensive Services for At-Risk Youth and Families, Corrections, Elections, Human Resource Management, Motor Vehicles, Professional and Occupational Regulations, Social Services, State Corporation Commission, Transportation, Tax, Treasury, Virginia Employment Commission and the Virginia Retirement System.
Virginia's IT disaster recovery program has garnered an international award. It is one of the few state programs in the country that involves a full-scale exercise.
Registration continues for project management summit
Registration is underway for the Fourth Annual VITA IT Project Management Summit slated Oct. 15.
The summit is designed for commonwealth and local government IT project managers, commonwealth employees on a project management career path and contractors assigned to IT projects in the Commonwealth of Virginia. The summit provides a cost-effective educational and networking opportunity. The educational component will include case studies, industry best practice and relevant project management topics.
This year's theme is "The Art and Science of Project Management." Project managers apply a science using art. Science comes into play when the project manager acquires and embraces all the theory he/she has learned through experience, training and certification using frameworks based on time-tested methods proven to be effective. Art comes into play when the project manager applies the important and relevant "how" that may ultimately result in project success.
Sponsors include the Community College Workforce Alliance (CCWA) and Central Virginia Chapter of the Project Management Institute. The summit runs from 8 a.m. to 4:30 p.m. at The Cultural Arts Center at Glen Allen, 2880 Mountain Road, Glen Allen. Cost is $85.
Gov. McAuliffe announces 2015-16 data internships
Gov. Terry McAuliffe has announced that Virginia state government and the Virginia Commonwealth University School of Business again will work together on data re-engineering internships to explore the use of data to improve the effectiveness and efficiency of state government.
Better use of data allows the commonwealth to identify opportunities to avoid duplicative costs in collecting, maintaining and using information; and to integrate services across agencies and localities to improve responses to constituent needs and optimize government resources.
Virginia Secretary of Technology Karen Jackson and CIO of the Commonwealth Nelson Moe are leading the effort on behalf of the state.
Avoid social engineering through the Internet
Social engineering refers to the methods attackers use to manipulate people into sharing sensitive information, or taking an action, such as downloading a file. Information posted online can seem harmless, until you think about how a social engineer could use the same information. By gathering multiple pieces of information from various sources, a cybercriminal could have enough facts about you to craft a very convincing social engineering scam. Be careful about how much information you post and think about how the various pieces might be combined for use by a cybercriminal.
Read July Information Security Tips
Additional regional meetings set to discuss PSAP grants, ESINet
VITA's Integrated Service Program (ISP) staff continued to add to the schedule of the 2015 regional outreach meetings to review changes to the Public Safety Access Point (PSAP) Grant Program for FY2017 and to discuss the Emergency Services Internet Provider Network (ESINet) requirements for next generation (NG) 9-1-1.
An additional focus on how geospatial data will need to be used in an NG9-1-1 world to route a 9-1-1 call also will be included. Additional dates will be added. The meeting schedule and previous meeting documents are posted online.
Schedule and meeting locations
ITAC to meet Aug. 3
The Information Technology Advisory Council (ITAC) will meet from 1-3 p.m. on Monday, Aug. 3, at the Patrick Henry Building in Richmond. ITAC members include IT and business leaders in state government and citizen representatives. The meeting is open to the public, and a time for public comment is planned near the end of the meeting.