May 2019
Volume 14, Number 5
From the CIO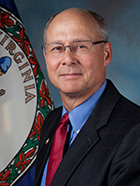 CIO Nelson Moe
VITA's biannual customer satisfaction survey shows little overall change in our customers' perception of services offered since the start of the multisourcing infrastructure environment. This is to be expected because we are moving from one model to another and one long-term provider to eight shorter term suppliers. Additionally our multisourcing service integrator has encountered challenges that have prevented improvement in customer satisfaction. Some areas improved.
Customers continue to give high marks to the VITA Customer Care Center (VCCC or help desk), on-site technicians and overall day-to-day operational management of the information technology infrastructure services program (ITISP). Importantly, customers seem to understand the value of VITA-provided governance. Survey results show VITA and our suppliers need to focus on speeding up and improving the quality of request processing and fulfillment; and providing avenues for customers to receive status reports on issues, incidents and requests. This survey is one tool VITA uses to enhance services and delivery of those services.
Another tool that VITA has used just recently is organizational restructuring. To be strategic and impactful, I am establishing a three-person team that will report to the CIO: a chief operations officer (COO) and chief administrative officer (CAO), both of which are new positions, and the chief information security officer position, held by Mike Watson. I have eliminated the executive director positions and flattened the organization. I believe this new structure will facilitate customer service to agencies and accountability within VITA. It also aligns with functional areas of VITA's mission, work with our new suppliers with VITA five-year maturity plan.
It's important that VITA works on continual improvement as we provide information technology and related services to executive branch agencies. I believe keeping watch on customer satisfaction through the quarterly survey and having a sound organizational structure will help ensure VITA provides efficient and effective services and governance that better serves our customer agencies.
Nelson
Agency IT news
Meeting held on data center migration
VITA's server/storage/data center (SSDC) supplier, Unisys, held a kickoff meeting last month regarding the data center move. VITA staff and representatives from other key suppliers were in attendance. A broad overview of timelines and expectations of suppliers, VITA and agencies was presented. Two concurrent efforts are beginning: a 24-week project to design, build and deploy a private cloud and a 32-week project to design and build the new data center. Migration of data is planned to begin by the end of this year. All data must be migrated from the data center at the Commonwealth Enterprise Solutions Center in Chester by Dec. 31, 2021.
Voice and data network refresh plan being developed
A plan for voice and data network refresh is being developed for the 60% of components that are end of life. While much work has been done since the December move to the new multisourced infrastructure environment, more back-end work remains. An aggressive 11-month plan is being developed, and a refresh prioritization has been established. Refresh of equipment that is or soon will be past its refresh cycle is the top priority. After that, refresh will be prioritized according to the site/location tier level, non-compliant equipment/software, pre-existing issues, manufacturer's end-of-support date, and the minimization of site visits with maximization of benefits.
Mainframe surveys due May 5
Agencies who have not yet responded to the mainframe questionnaire are asked to do so by May 5. The purpose of the questionnaire is to identify applications, software, storage, computing usage, end users and other critical areas related to agency use of the mainframe. Feedback will provide information to help VITA determine computing platform commonalities, evaluate emerging technologies and engage a mainframe service strategy.
Town hall meetings topics include 9-1-1 comprehensive plan and GIS strategic plan
VITA's integrated services program (ISP) will be hosting a series of town hall meetings throughout May. The purpose of these meetings is to share the planning process developed to create the next editions of the 9-1-1 comprehensive plan and the Virginia Geographic Information Network (VGIN) strategic plan. At these meetings, ISP staff will review the process created to develop these plans and vet with our stakeholders. A robust discussion with members of the public safety answering points (PSAP) and geographic information system (GIS) communities will provide feedback on the current state of 9-1-1 and GIS, as well as issues impacting the future. Participation is critical; please attend one of the following meetings:
May 1 - Front Royal - 10 a.m. to 1 p.m.
May 13 - Verona - 9 a.m. to noon
May 29 - Abingdon - 9 a.m. to noon
May 30 - Roanoke - 1 to 4 p.m.
To register, visit https://www.vita.virginia.gov/integrated-services/.
Information security tips
It is very easy to find any information you need in today's connected world. In order to keep information safe or private, we need to take care of sharing it and teach cyber hygiene to those who may not understand its importance. Here are examples of how we are asked to provide information, or how people share information that should be kept private: https://www.vita.virginia.gov/commonwealth-security/information-security-tips/april-2019.html