May 2018
Volume 13, Number 5
From the CIO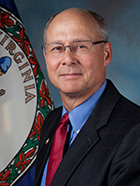 CIO Nelson Moe
Every two years, the Center for Digital Government issues its Digital States Survey. Each of the 50 states responds to the same set of questions, which the center uses to collect and report best practices, policies and progress made by state governments in the use of digital technologies to better serve citizens and streamline operations. This year's survey has been released, and VITA staff is gathering information for the commonwealth's response.
In the 2016 survey, Virginia was one of just four states to receive an "A" grade, the highest score given. The "A" ranking means "These states are trending sharply up. They show results across all survey categories. Modernization is used to realize operational efficiencies and strategic priorities. There is evidence of meaningful collaboration, and performance measures and metrics are widely adopted."
Success in the survey was a high priority in the previous administration and remains so under Gov. Ralph Northam and Secretary of Administration Keyanna Conner. There has been a lot of great work throughout the state since the last survey. I am optimistic that Virginia will maintain its standing atop the list of digital states and continue to be a shining example of the best our nation has to offer in digital technology.
VITA will utilize its project tracking tool to view ongoing projects and review press releases distributed over the past two years regarding new and innovative uses of information technology (IT) to aid in the completion of the survey. Previously, agency information technology resources (AITRs), web teams and subject matter experts received requests to assist in the information-gathering process. While agencies are not expected to be called upon as much as in the past, please be aware that requests for information still may be necessary. If your agency is contacted for information, a prompt response is strongly encouraged.
The work you continue to do for the commonwealth has never been more valuable than it is today. I thank you and extend my sincere appreciation for your commitment to Virginia.
Nelson
Agency involvement vital to infrastructure governance
VITA has asked each executive branch agency head to appoint a representative to assist with IT infrastructure governance.
The commonwealth is steadily implementing the information technology infrastructure services program (ITISP), which is designed to provide and improve the ability of VITA to more effectively support the commonwealth's changing technology needs. A critical success factor is agency engagement in governance.
A work group of VITA's Customer Advisory Council has designed an agency-centric engagement model for governance called commonwealth IT infrastructure management and governance (CIIMG). The purpose of CIIMG is to protect, enhance and grow the infrastructure services.
This governance framework will permit VITA to manage the contractual requirements and performance of suppliers, maintain relationships with the agencies, and monitor the ability of VITA and the suppliers to meet objectives. It will provide forums for participants to understand each other's goals, to ensure commitments are being met and to implement changes as needed by the agencies, VITA and our suppliers.
Agency heads were asked to name one senior-level business or IT representative from his or her agency to participate on the CIIMG relationship management committee. Engaging agency business and IT leaders in governance will ensure management of service quality, provide oversight of vendor accountability and measure business value of services delivered.
This new infrastructure environment will be more agile, offer opportunities to enhance services and provide market pricing. It will support the businesses of your agencies as you serve citizens of the commonwealth. Your continued support is greatly appreciated.
NG 9-1-1 deployment plan adopted, contract available to assist localities
The Virginia 9-1-1 Services Board has adopted a plan to deploy next generation 9-1-1 (NG 9-1-1) in the commonwealth to upgrade the current 40-year-old 9-1-1 system. NG 9-1-1 routes emergency calls to appropriate 9-1-1 centers faster. It is designed to enhance communications in emergency situations by more efficiently routing data and calls, in some cases to other localities or even states. The deployment plan was created by VITA and officially adopted by the 9-1-1 Services Board after review and public input.
As 9-1-1 is a local service, each individual locality must make the determination how and if to implement and deploy NG 9-1-1. To assist in the implementation, a contract has been awarded to AT&T to provide NG 9-1-1 services in Fairfax County through the AT&T ESInet solution. As part of the deployment plan, the contract can be utilized by all localities in the state, not just those in Fairfax County.
ESInet modernizes the 9-1-1 infrastructure by using the National Emergency Number Association's i3 standards. Localities utilizing ESInet can manage how calls and text messages are routed to ensure delivery to desired 9-1-1 centers; handle unexpected or large call volumes, automatically distributing to neighboring public safety answering points; maintain service in natural or man-made disasters; apply dynamic routing capabilities to give public safety entities direct, on-site access to 9-1-1 callers; and improve overall incident awareness.
Localities interested in implementing NG 9-1-1 should notify the 9-1-1 Services Board of their interest prior to entering into a participation agreement with AT&T.
Customer agencies services and solutions
Submitting work requests
Agencies can expect a direct impact on IT custom work requests as VITA transitions the commonwealth's IT infrastructure services to new suppliers this year. To mitigate transition-related risk as much as possible, agencies are asked to submit requests for custom work request proposals as soon as possible. Doing so will permit VITA's current infrastructure provider sufficient time to prepare and implement the proposal, before the transition from the current provider to new suppliers occurs.