March 2018
Volume 13, Number 3
From the CIO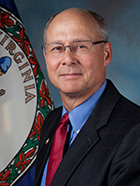 CIO Nelson Moe
VITA, with the support and assistance of agencies and our suppliers, continues to make progress on the information technology infrastructure services program (ITISP). The new multisourced environment is closer to becoming a reality and will offer agile and secure IT services for executive branch agencies.
This month, we transition approximately 45,000 executive branch staff to G Suite provided by Tempus Nova for email and calendaring. Moving to G Suite is the ITISP service transition that will directly impact the most end users of VITA's services. We have developed training and established an online support site to assist staff with the transition slated March 26.
Here are some highlights of our ITISP activities and progress:
Mainframe - VITA discovered challenges in the first mock testing moving data from the Commonwealth Enterprise Solutions Center (CESC) in Chester to DXC's Mid-Atlantic data center in Clarksville, VA. Mock two testing and the move are being re-scheduled to allow time to incorporate lessons learned from the first mock testing. VITA and DXC continue to work closely with the 13 agencies using the mainframe.
Multisourcing service integrator (MSI) - The detailed MSI project schedule has been baselined and progress is getting underway on transition tasks. VITA is reviewing Science Applications International Corporation's (SAIC) recommendation for the single commencement plan for service suppliers and providing project management office (PMO) augmentation. Complete transition is scheduled by December.
Managed security, end-user, server/storage and voice/video/network services - These services are in procurement. An announcement will be made soon on the award of a managed security services contract.
We value the input from agencies, suppliers and all our stakeholders as we work together to establish the new multisupplier environment, which will provide the next generation of IT services VITA provides to executive branch agencies.
Nelson
Keynote speakers and program for security conference posted
Registration for the 2018 Commonwealth of Virginia (COV) Information Security Conference remains open, but spots are filling up quickly.
This year's conference will be held April 12-13 at the Altria Theater in Richmond. Keynote speakers include Dr. Deanna D. Caputo, human behavior and cybersecurity capability steward at The MITRE Corporation, and Adam S. Lee, special agent in charge at the FBI Richmond Field Office. Also speaking will be Secretary of Administration Keyanna Conner. Conference program and registration information can be found in the link below.
COV Information Security Conference details
2017 RTIP posted on VITA website
The 2017 Recommended Technology Investment Projects (RTIP) is posted on the VITA website. RTIP is an annual report from the chief information officer of the commonwealth to the governor and General Assembly that provides a snapshot of IT portfolio projects proposed and in progress. The portfolio is subject to change depending on available funds, new business requirements or issues, change in agency or commonwealth policy direction, or emergency situations that may arise.
2017 RTIP for the 2018-20 biennium
Proposed updates to security standards now on ORCA
Proposed updates to the Hosted Environment Information Security Standard SEC525-03 and the Information Security Standard SEC501-10 contain an additional requirement and have been reposted online. The review period ends March 4.
The addition, PE-1-COV on page 118 and 109 of SEC525 and SEC501, respectively, states that "All data centers must be certified at a minimum rating of Tier III in accordance with the Uptime Institute Tier Classification System." The purpose of SEC525-03 and SEC501-10 remain unchanged.
Comment on VITA's online review and comment application (ORCA)
March webinars feature 7-1-1 and 8-1-1
VITA has webinars scheduled on 7-1-1 and 8-1-1. The first, to be held Wednesday, March 14, focuses on 7-1-1 telecommunications relay services. Individuals who are deaf, hard of hearing or blind can use the free 7-1-1 public service to make calls. The second webinar on Wednesday, March 21, is designed to raise awareness about Virginia 811, a not-for-profit organization created by Virginia's utilities to protect underground facilities.
Customer services and solutions
Standard form 6-003 for secure email will be retired at the beginning of April as a result of transition to G Suite messaging and calendaring to the new messaging infrastructure supplier. Agencies that anticipate a need for this service in the near future are asked to submit a work request as soon as possible.
Additionally, work requests should be submitted as soon as possible to ensure sufficient time to prepare and implement the proposals without conflicting with the supplier transition period. During the last quarter of this calendar year, VITA will be terminating services with the incumbent and transitioning services to new suppliers.