June 2019
Volume 14, Number 6
From the CIO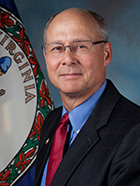 CIO Nelson Moe
It's time to start thinking about the Commonwealth of Virginia Innovative Technology Symposium (COVITS) 2019. This fall's event again features informative and entertaining keynote and featured speakers, the governor's technology awards, and lots and lots of sessions on topics and challenges we, as IT professionals, are facing. I urge you to attend this annual event, which is the premier IT conference in the area. It attracted 400 people last year, so register soon to reserve your spot. More details are provided below. I look forward to seeing you there!
Back to the day-to-day efforts, VITA is preparing to launch new technology services on July 1 under the multisupplier service model that will provide agencies with more choices to meet business needs in FY20. We want to make sure that you have all the information about these new services you need prior to their launch. Over the next month, agency information technology resources (AITRs) will receive a weekly communication highlighting key services offered by each of our eight suppliers. Initial services will launch July 1 with more added throughout the 2019 calendar year. In addition, VITA will host a second service fair on June 26 where AITRs and others from agencies will have the opportunity to interact with suppliers and ask questions.
Nelson
COVITS registration open; keynote, featured speakers set
Kelly Swanson, award-winning communication strategist, writer, storyteller, humorist and motivational speaker, will provide the opening keynote address for COVITS 2019. Registration for COVITS, slated Sept. 4-5 at the Greater Richmond Convention Center, is now open.
Swanson is the author of Who Hijacked My Fairy Tale, The Land of If Only, The Story Formula and The Gutsy Girls Pocket Guide to Public Speaking. She was a keynote speaker for the International Toastmasters Convention and has keynoted major conferences and corporate events from coast to coast. Her powerful insights and wacky wit have charmed and inspired audiences for more than two decades.
Featured on the agenda is Morgan Wright. A senior fellow at the Center for Digital Government, Wright is an internationally recognized expert on cybersecurity strategy, cyberterrorism, identity theft and privacy.
Registration and event information can be found at https://events.govtech.com/COVITS.html.
2019 Governor's Technology Awards entries due July 11
The submission period for the 21st annual Governor's Technology Awards (GTA) is now open. Nine award categories will recognize local, state and educational entities. Submissions should focus on improvements in the business of government through the strategic use of IT. All entries must be submitted online by a Virginia public body no later than midnight on Thursday, July 11. Winners will be announced during a ceremony at COVITS Sept. 5.
Award categories include:
Cross-boundary collaboration on IT service delivery initiatives: Recognizes the innovative use of IT to share data easily across boundaries, create a knowledge-sharing culture, support common business processes or promote innovative partnership programs. Entries should be submitted jointly by at least two government entities.
IT as efficiency driver - government to citizen: Recognizes the innovative use of IT to improve citizen access to and service from governmental entities. Included are projects that improve citizens' electronic interaction with government, promote availability, usability and/or transparency of information, and increase public awareness and adoption of services.
IT as efficiency driver - government to business: Recognizes the innovative use of IT to promote efficiency by improving business access to and service from governmental entities. Included are projects to improve electronic interaction of businesses with government; promote availability, usability and/or transparency of information; and, increase business awareness and adoption of available services.
IT as efficiency driver - government to government: Recognizes the innovative use of IT to promote efficiency in government. This category recognizes projects that enable organizations to do more with less. Results realized may include a dollar return on investment, realignment of staff time and/or newly transparent processes/information.
Innovative use of technology in local government: Recognizes the innovative use of IT to solve a business problem at the local level. This category is open to any local government entity, including social services, first responders and geographic information systems (GIS) practitioners.
Innovative use of technology in education: Recognizes the innovative use of IT to support the unique missions of Virginia's schools, colleges and universities. Cooperative projects between educational institutions and other governmental entities, including research and development programs, fall into this category.
Innovative use of data and analytics: Recognizes the innovative use of technology in collecting, storing, retrieving and analyzing a variety of structured and unstructured data sources.
Best cybersecurity initiative: Recognizes innovation, leadership and effectiveness in cybersecurity technology services.
Best citizen portal: Recognizes the innovative use of an online portal that demonstrates innovation, functionality, attractiveness, efficiency and ease of use. Open to any Virginia government organization, agency or jurisdiction that is citizen-facing.
Virginia schools net national cybersecurity awards
Five Virginia high schools were honored for their participation in the national Girls Go CyberStart program. Girls Go CyberStart is a series of online challenges, sponsored by the SANS Institute, designed to place girls in grades 9-12 in the role of a cybersecurity professional, solving real world problems and puzzles. Virginia's participation ranked fourth in the nation with 765 girls registered.
Schools with the highest number of participants in each state were awarded with a cash prize for their efforts. Virginia winners are:
Spotsylvania High, $1,000 for 108 participants, the highest number in Virginia
North Stafford High, $750 for 54 participants
Riverbend High, $500 for 50 participants
John S. Battle High, $200 for more than 40 participants
In addition to the cyber challenges, schools received one entry into a raffle for every five students that completed at least two challenges. York High was selected as the winner of the raffle and received $1,000.
More than 11,000 girls across 27 states participated in Girls Go CyberStart.
First steps to move data center underway
VITA and its multisourced infrastructure suppliers are beginning work on migrating the data center from the Commonwealth Enterprise Solutions Center (CESC) in Chester, to a facility near the airport (QTS Richmond). The data center must be moved from CESC by Dec. 31, 2021. A kickoff meeting in April was held to engage VITA staff and supplier representatives.
The planning and move will be a group effort. Unisys owns the data center local area networks or switching infrastructure, Verizon owns the internet and MPLS connections and Atos owns user proxies and infrastructure security. The application and connectivity requirements of agencies and other service tower suppliers will be impacted. The move will start with designing, building and deploying a private cloud at CESC. The 24-week schedule for that build culminates in September when testing will begin. The goal is to have VITA's private cloud certified and ready by November. VITA has already collected information from the agencies regarding systems that can be made cloud-ready in anticipation of the move. Agencies can begin virtualizing (i.e. making cloud-ready) systems as soon as they have been approved for investment.
Concurrent with the private cloud timeline is the design and build-out of the new data center in Richmond, which will be a 32-week effort. Migration of data is planned to begin by the end of this year. The backup data center will remain in Manassas.
Statewide contract available on VITA's public contract portal
A contract for automated vehicle location (AVL) has been awarded. The contract is available to state agencies and government entities, as defined by the Code of Virginia. The contract runs through April 26, 2024, and can be found here.