June 2018
Volume 13, Number 6
From the CIO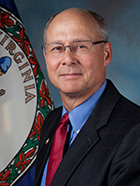 CIO Nelson Moe
May was a busy, but very productive month, for technology in state government. VITA, state agencies and our suppliers made strides in several areas related to the information technology infrastructure services program (ITISP). As you know, we are moving from one large, long-term supplier to a multisupplier environment that will offer agility, market pricing and opportunities to enhance state technology.
A major event last month was the submission of a letter from VITA to Northrop Grumman terminating infrastructure services effective Aug. 17. The commonwealth is engaging Science Applications International Corporation (SAIC) for infrastructure services as a bridge to our new multisourcing service integrator (MSI)-based service model. SAIC will be in place to integrate new suppliers coming onboard who are or will be providing services such as messaging, mainframe, security, end user services, server/storage and voice/video. Three of those contracts have been awarded and three are pending.
Technology changes rapidly and it's essential we have opportunities beyond one long-term provider. After take over, SAIC will have 30 days to stabilize the service and 90 days to prepare the infrastructure environment for the new service providers in December. After SAIC integrates the new suppliers, the emphasis will change to enhancing services.
The biggest news related to southwest Virginia last month was the announcement by Gov. Ralph Northam that our MSI will create jobs in the region. SAIC will locate the service desk (VITA Customer Care Center or VCCC) in Clintwood, Dickenson County, creating approximately 40 jobs in that rural county. The employees will be on the front line of service to state employees. They will use their customer service skills to answer, or triage and route, queries from state employees who face technology challenges. Some of those queries, such as assisting with resetting a password, may seem minor. But none will be. Each person who works at the service center will perform critical and sometimes life-saving work. They will support state employees who work in public safety, hospitals, correction facilities, who are watching over children and the elderly, or who are conducting the more routine business of state government - such as the Department of Motor Vehicles (DMV) and the Department of Taxation (TAX). While technology is invaluable, we still need people on the front line. That's what those who work in the service center will be – the front line - assisting state employees with technology challenges. I commend SAIC, the Virginia Coalfield Economic Development Authority, Dickenson Industrial Development Authority, and Clintwood and Dickenson County officials for their commitment to southwest Virginia, and I offer my best wishes to the employees who will be working at the service center in the fall.
In late May, VITA held two G Suite enhancement forums that attracted more than 100 agency information technology (IT) staff. They provided input as to which G Suite products to add to our service to meet agency business needs. That information will be provided to VITA's Customer Advisory Council, which will meet to consider and provide suggestions. When we moved to G Suite in April, we only transitioned to email, calendaring, contacts, instant messaging and mobile device management so we could meet the court-ordered deadline to leave the current infrastructure provider's messaging service. We continue to work with our supplier, Tempus Nova, and Google to address challenges and plan for additional service offerings.
We were able last month to establish dates for the second round of mock testing, network swing test and go-live for migration of IBM mainframe services to our new supplier's facilities. We are moving IBM mainframe services from the Commonwealth Enterprise Solutions Center in Chester to DXC's mid-Atlantic data center with backup in Colorado Springs. Thirteen state agencies are on the mainframe. The schedule also takes into account other internal and external dependencies. The 13 agencies using the mainframe have been advised of the dates.
The other projects that are part of ITISP also are moving forward, and we expect to have all suppliers in place by the end of the year.
This is a complex effort, but it is essential that we move technology in state government forward to maintain our nationally recognized status as a leader in IT. I am sincerely appreciative of all who are facilitating progress.
Nelson
VITANet available to telecommunications customers
Two statewide telecommunications contracts that offer a portfolio of leading edge services are available to customers throughout the commonwealth. VITANet consists of contracts with Verizon and CenturyLink, designed to foster a competitive environment and encourage new, innovative services at market-driven prices.
Both suppliers offer services such as wide area network (WAN) data communications, high-speed tier one internet, hosted and on-premises voice-over-internet protocol (VoIP) systems, and traditional long-distance and toll-free voice communication.
By awarding contracts to multiple suppliers, users in the commonwealth see many benefits. Advantages of the contracts include no term commitments, more network options, new services throughout the duration of the contract, increased bandwidth and improved performance. Individuals and agencies interested in taking advantage of the VITANet contracts should contact VITAnet@vita.virginia.gov.
Newsletter offers tips for online protection
Your information footprint is how much information about you is recorded and available in both digital and paper formats. While we may use a few key digital devices and services on a regular basis, they often contain more information about us than is necessary.
It's also likely that devices and services we don't use anymore still may contain your information. You also might have that pile of paper you've been meaning to get rid of and can use spring cleaning to reduce your information footprint by shredding for a while, making this an opportune time to spring clean your information footprint. By spending a little bit of time and effort, you can better secure your information to safeguard against various forms of identity theft.
PSAP funding formula released for FY19
The 9-1-1 Services Board is required by State Code to recalculate the wireless funding distribution percentages for Virginia public safety answering points (PSAPs). Recalculation must be complete by July 1, 2018, and every five years thereafter. The percentages are based on a new funding formula that equally averages population and total 9-1-1 calls. There is a $40,000 minimum based on a revenue estimate of $29,500,000 for fiscal year (FY) 2019. When calculating the new percentages, VITA integrated services program staff used 2017 population estimates from the University of Virginia's Weldon Cooper Center and "total 9-1-1 calls" call load data from FY13 - FY17. These new percentages will be reflected in the first FY19 funding payment that PSAPs receive in August. Please contact your regional coordinator or VITA integrated services program staff member with any questions.
VITA and Microsoft hosting cloud readiness session
The VITA Innovation Program (VIP), formerly VITA ICE, is hosting a cloud readiness session in conjunction with Microsoft, on Wednesday, June 13. The session will run from 9:30 a.m. - noon at the Library of Virginia.
Participants of the session will be introduced to the cloud data platform and how it is used to scale on-demand data, minimize management and free-up database administrators to focus on application design and performance. Other topics such as platform analytics and cognitive services will also be highlighted.
Register for the cloud readiness session
VITA recognizes Star Award individuals, teams
Each year, VITA presents Star Awards to recognize employees for their hard work and efforts, particularly those exemplifying the agency's four core values of value-add, teamwork, integrity and accountability. Individuals are nominated by their peers and voted on by VITA's executive and leadership teams. This year, eight individuals and two teams were honored with Star Awards. Additionally, three agency employees who assisted VITA were also presented with a Star Award at the May AITR meeting.
The 2018 individual VITA Star Award winners are:
Al Canary, financial services specialist
John Craft, deputy chief information security officer
Jamey Doran, senior financial specialist
Julie Fuentes, communications specialist
Bridgette King, strategic sourcing specialist
Todd Kissam, lead enterprise architect
Tom Nikles, work request process specialist
Jamey Stone, messaging project technical manager
Team Star Award winners:
VITA messaging team – Jamey Stone, Almeater Alston, Cindy Berberich, Sherry Burwell, Chad Carter, Don Drew, Tammy Edwards, Julie Fuentes, John Kissel and CA Sparkes
MSI solution team – Cindy Berberich, Chad Carter, Cynthia Cordova-Edwards, Jamey Doran, Matt Gill, Deborah Harris, Doug Leslie, Susan McCleary, Jane Newell and Steve Slight from VITA and Jen Peters, Virginia Retirement System; Grayson Walters, TAX; and Jane Williamson, Library of Virginia.