From the CIO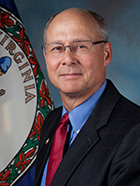 CIO Nelson Moe
VITA will soon be launching a new information technology financial management (ITFM) system. The new system will provide bills to agencies in a quicker, more efficient manner. To ease the transition to the new system, VITA and SAIC recently launched a pilot version of the system to provide users time to acclimate themselves before the full implementation. Along with the pilot system, a mock bill was sent. Agencies are strongly encouraged to view the mock bill and compare it to the legacy bill. Any questions, differences or issues should be sent to:
ITFMbilling@vita.virginia.gov
. Early diligence will reduce the number of hiccups at the full launch, which is scheduled for the end of the month.
The transition to ITFM will not initially include the telecommunications services billed in TEBS. Later in July, voice and data network (VDN) services will transition out of TEBS. But for now, billing for the month of June will continue in TEBS.
The new ITFM system is a significant change, but represents a major milestone in our move to a new era of IT services. It is a leap forward in our ability to provide increased drill-down capabilities and spend transparency requested by agencies. Your efforts in learning about the new system in advance of the go live, especially in this hectic time of year, are sincerely appreciated. VITA is fully committed to ensuring a smooth transition. We thank you for your continued support.
Nelson
Registration for the 2019 Commonwealth of Virginia Innovative Technology Symposium (COVITS) is now open. COVITS is scheduled for Sept. 4-5 at the Greater Richmond Convention Center.
Communications strategist and motivational speaker Kelly Swanson will deliver the opening keynote address. Morgan Wright, senior fellow at the Center for Digital Government, is on the agenda as the featured speaker.
Entries for the 2019 Governor's Technology Awards are due by midnight on July 11.
Awards will be given in nine categories that recognize local, state and educational entities' IT efforts. Submissions should focus on improvements in government through the strategic use of IT. All entries must be submitted by a Virginia public body.
Information for state agencies
Second VITA services fair a success
VITA held its second services fair on June 26 at the Monroe Building in downtown Richmond. Approximately 100 staff from state agencies attended and spoke with suppliers about the new products and services available on July 1. Many in attendance also participated in the first services fair in May. VITA finance staff held 15-minute question and answer sessions with individuals interested in learning more about ITFM, rates-and-what will be new in FY20.
In an exit survey, 94% of attendees rated the fair as a valuable use of their time. Survey results indicate 96% understand what services are available.
VITA extends appreciation to all who attended and participated, and to the suppliers for helping create such a successful event.
Security standard update posted
The update to SEC502-03 Information Security Audit Standard is posted on the VITA website at https://www.vita.virginia.gov/it-governance/itrm-policies-standards/. The purpose of the standard is to define IT security audit requirements for commonwealth agencies. Changes to SEC502-03 include the following sections: Preface, 1.2.4 IT Security Audit, 1.2.5 IT Security Auditors, 1.4 IT Security Audits of IT Systems, 2.1 Planning for IT Security Audits, 2.5.4. Reporting IT Security Audit Results to VITA.
IT high risk solicitations, contracts require VITA, OAG review
Effective July 1, VITA is issuing a high-risk solicitation and contract policy that requires agencies planning to conduct an IT procurement under a delegation of authority to notify VITA's supply chain management (SCM) division immediately. SCM will provide advice and consulting services to agencies to assist in preparing the required performance metrics and enforcement provisions.
The policy was created as a result of the General Assembly's addition of §2.2-4303.01 "High-risk contracts; definition; review" to the Virginia Public Procurement Act (VPPA).
Section 2.2-4303.01(A) of the VPPA defines a high-risk contract as any public contract with a state public body that is anticipated to either:
Cost >$10M over the initial term of the contract or
Cost > $5M over the initial term of the contract and meet one of the following criteria:
The goods or services that are the subject of the contract are being procured by two or more state bodies;
The anticipated term of the initial contract, excluding renewals, is greater than five years; OR,
The state public body procuring the goods or services has not procured similar goods or services within the past five years.
Section 2.2-4303(B) requires that prior to issuing a solicitation for a high-risk IT contract, a state public body shall submit such solicitation for review by:
VITA and Office of the Attorney General (OAG)
Such reviews:
Shall be completed within 30 business days
Evaluate if the solicitation complies with applicable law and policy
Evaluate the appropriateness of the solicitation's terms and conditions
Ensure that such solicitations contain distinct and measurable performance metrics and clear enforcement provisions, including penalties or incentives to be used in the extent that contract performance metrics or other provisions are not met
Section 2.2-4303(C) requires that prior to award of a high-risk IT contract the contract shall be reviewed by:
VITA and OAG
Contract reviews shall:
Be completed within 30 business days
Evaluate if contract complies with applicable state law and policy
Evaluate the legality and appropriateness of the contract's terms and conditions; ensure that such contracts contain distinct and measurable performance metrics and clear enforcement provisions, including penalties or incentives to be used in the event that contract performance metrics or other provisions are not met
Agencies are advised to contact scminfo@vita.virginia.gov to notify VITA of an upcoming high-risk procurement.
New name for CAMs
Effective July 1, customer account managers (CAMs) at VITA will be called customer information technology administrators (CITAs). The name change comes as a result of reorganization within VITA. There are currently two CITA positions advertised in the Department of Human Resource Management (DHRM) job listings.
The role of CITAs has also changed with the commencement of the new multisourcing model. CITAs will now have a more strategic role with agencies and should be included in discussions about IT strategic planning, rates changes and budget decision packages, as well as discussions about potential new services and questions about billing of existing services. CITAs will continue to own the overall account, and are directly responsible for driving escalated issues, both business and operational, to resolution.
Business relationship managers (BRMs), the liaisons between the multisourcing service integrator (MSI) and agencies, have a tactical and operational role. BRMs will continue to drive day-to-day operational activities related to the MSI. BRMs will also continue to serve as the bridge between the MSI, agencies and the VITA service portal.