July 2018
Volume 13, Number 7
From the CIO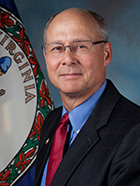 CIO Nelson Moe
We are in the midst of ending the commonwealth's information technology (IT) infrastructure service contract with our incumbent supplier. VITA will end the contract at 11:59 p.m. on Friday, Aug. 17. Science Applications International Corp. (SAIC) will take over at midnight on Aug. 18. VITA and SAIC are collaborating on a transition assistance program (TAP) to shift service providers. SAIC will provide infrastructure services until Dec. 15 when the company will take over the role of multisourcing service integrator (MSI).
What's the difference in the two roles? SAIC will be responsible for providing all infrastructure services until mid-December. At that time, the second role begins and SAIC will serve as the MSI. Two separate teams, with occasional overlap, from SAIC are working on the two projects.
This is a walk-in-take-over scenario. Good news for agencies: There will be a smoother transition from the one-provider environment to the multisupplier environment. Good news for employees of the incumbent: SAIC's intent is to retain as many as possible of the incumbent's employees across the commonwealth who are currently working on the program. Some of these employees were state employees before joining the incumbent. Their experience and knowledge, and that of employees who have joined the program since it was established, are valuable to our success. SAIC has reached out to those employees, conducting interviews and making job offers.
There are several work streams related to TAP, and more scheduled to implement the MSI environment. We strive to keep agencies informed about our progress and how they can provide input and get ready for these changes. A wide variety of information on TAP is accessible to agency information technology resources (AITRs) on the Connections website.
As part of the MSI environment, VITA and SAIC will conduct innovation forums for agencies starting next month for implementation in 2019. Agency representatives will be asked to provide input regarding improvements to current systems that will enhance their business processes. There will be a series of five sessions to permit VITA and SAIC to understand agencies' needs for new or improved services, deepen insights of those needs, understand how agencies want to get to the new services and design challenges for each service delivery area, walk through a design prototype of the proposed agencies' experience, and a presentation summary resulting in an innovation roadmap to implement initiatives. Watch for more details this month.
As MSI, SAIC will have 12 business relationship managers (BRMs) who will interact with agencies in roles similar to current agency operations managers (AOMs). VITA's customer account managers (CAM) will move into a more strategic role, while the BRMs will address day-to-day business needs. We are working out specifics of roles so agencies are best served by their CAMs and BRMs and will share those when they are finalized.
Agencies, VITA, SAIC and the new suppliers we are bringing on board have much to do to move to our new environment. However, the results will be worth the work: the multisourcing environment will permit us to be more agile, purchase services at market rates and make enhancements to our services.
Nelson
Governor's Technology Award entries due July 18
The 2018 Governor's Technology Awards will be presented at the Commonwealth of Virginia Innovative Technology Symposium (COVITS). All entries must be submitted by a Virginia public body, and in use with quantifiable outcomes. Entries are due by midnight on Wednesday, July 18. The awards ceremony at COVITS is Sept. 5. Award categories include:
Cross-Boundary Collaboration on IT Initiatives
IT as Efficiency Driver - Government to Citizen
IT as Efficiency Driver - Government to Business
IT as Efficiency Driver - Government to Government
Innovative Use of Technology in Local Government
Innovative Use of Technology in Education
Innovative Use of Big Data and Analytics
Best Cybersecurity Initiative
Best Citizen Portal
Sept. 5-6 COVITS features inspiring speakers; register now
COVITS is fast approaching, and registration is now open. This year's COVITS will be held Sept. 5-6 at the Richmond Convention Center. "Technology will continue to be at the heart of our ambitious plans for serving Virginians in new and better ways, and we are striving more than ever to embrace innovation and find new ways to get our goals accomplished. Let's use this year's COVITS as a platform to join forces, share ideas and be inspired. The timing couldn't be better," said Secretary of Administration Keyanna Conner, who will open the event.
The opening keynote address will be presented by writer, historical performer and Theodore Roosevelt Humanities Scholar Clay Jenkinson. Roosevelt's "In the Arena" is one of the most stirring presidential quotes of all time, and serves as the keynote theme for this year's conference. Roosevelt also was the first "high-tech" president as he brought the American people, sometimes kicking and screaming, into the 20th century. Jenkinson brings "Teddy" to life.
Guest speakers include Christina "CK" Kerley, futurist and strategist, who will look at what we can expect in technology in the years ahead and Michael Hakkarinen, instructional technology specialist, Utah Education Network, who will talk about finding balance in the digitally evolving world.
Breakout session topics include: Cloud and DevOps, Blockchain Use Cases, Strategies for Smart Communities, Commonwealth's IT Sourcing Transition Update, The Citizen Experience, Easing the Pain of FOIA and e-Discovery, Election Security - The Epitome of a Cyber Challenge, Emergency Response Trends and Technologies, AI Update, Predictive Analytics and Why It Matters, and About Innovation.
COVITS is open to the public sector only, such as IT professionals from state, county, city and town governments and public institutions of education. IT businesses sponsor the event and have booths in the exhibition hall. Registration is $85, with a two-for-one registration special.
BUY IT manual update provides enhanced search
VITA has upgraded its online IT procurement manual, BUY IT, by providing an index to search by keywords or common terms. A separate BUY IT search form is available for keyed entries. BUY IT content is based on statutory requirements from the Virginia Public Procurement Act, VITA's procurement policies, best IT procurement practices and current legislative updates that impact VITA.
DXC is now Perspecta
VITA's mainframe services provider is now Perspecta. Perspecta is the new company formed by the spin-off of the DXC Technology U.S. Public Sector business combined with Vencore Inc. and KeyPoint Government Solutions. Perspecta, with 14,000 employees and revenues of $4.2 billion, helps U.S. government customers achieve their missions, transform to digital environments, secure, modernize and optimize their enterprises, and innovate for the future.
Customer solutions and support updates
VITA's rates will change with the start of the new fiscal year on July 1. Standard forms that are impacted by the rate change have been updated and are posted to the IT service catalog form library. Custom work request proposals will be priced using the new fiscal year rates starting in the near future.
Virginia submits two entries to NASCIO awards
Two entries were submitted for the National Association of State Chief Information Officers (NASCIO) Recognition Awards last month. One focused on an assessment and another showcased customer service.
The first entry addressed modernization of a collaborative customer-centric view of governance at Virginia Information Technologies Agency (VITA)'s implementation of an effective cross-functional approach to fulfill its codified requirements to review projects and programs.
VITA management reviewed the governance cycle, identifying touchpoints. The customer-centric viewpoint helped deliver an agile new process and transparent view to all VITA managers. It improved time to service delivery and produced a single, unified and informed voice from VITA to its agency customers.
The other entry focused on an assessment of the commonwealth's voting machines conducted by VITA's Commonwealth Security and Risk Management (CSRM) directorate. Given security vulnerabilities, concerns emerged about protecting Virginia's information technology (IT) systems, commonwealth data and citizens' votes, the State Department of Elections (ELECT) asked VITA to follow up.
Both Virginia finalists will be considered for recognition at NASCIO's upcoming annual conference in San Diego. Projects and initiatives from NASCIO member states, territories and the District of Columbia were eligible for nomination, and finalists were selected by NASCIO's awards committee from a field of more than 100 nominees.