January 2019
Volume 14, Number 1
From the CIO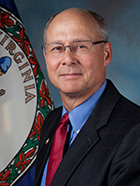 CIO Nelson Moe
The National Association of State Chief Information Officers (NASCIO) surveys its members to determine their top priorities for the year. What are their priorities for 2019 and how do they line up with Virginia information technology (IT) objectives?
The top priority, and it has been the top priority in recent surveys, is security and risk management. This also is the top priority for Virginia. VITA, agencies and our suppliers work diligently to protect the information citizens and businesses entrust to the state. In the area of security, CIO's are concerned about governance; budget and resource requirements; security frameworks; data protection; training and awareness; insider threats; and third-party security practices as outsourcing increases. Another concern for Virginia is attracting knowledgeable staff, particularly because we must compete with the private sector for talent.
Second is cloud services, another high priority for our state. The governor has issued an executive order for agencies to determine which applications they utilize that might have the potential to move to the cloud. The cloud can help reduce storage costs. In Virginia, our strategy is important because we must move from the Commonwealth Enterprise Solutions Center in Chester in 2022 and leveraging use of the cloud will reduce the amount of physical equipment needed. Of concern in this area to CIOs is strategy; proper selection of service and deployment models; and scalable and elastic IT-enabled capabilities provided "as a service," using internet technologies.
Virginia is a leader in the third priority: consolidation. CIOs are concerned about consolidating services, operations, resources, infrastructure and data centers; and communications and marketing of "enterprise" thinking. Our state began this journey in earnest in 2005, with the formation of VITA. While we have consolidated services, we need to continue to focus on thinking as an enterprise.
Fourth is a framework for digital government services: a portal; improving citizen experience; accessibility; and identity management. VITA and state agencies strive to offer as many services as possible online. Areas of significant success are Department of Game and Inland Fisheries' hunting and fishing licenses site, Department of Health's vital records, Department of Taxation's business taxes sites, Virginia.gov to find all services, and Department Motor Vehicles and Department of Elections for the services they offer online.
Fifth is broadband/wireless connectivity: strengthening statewide connectivity; and implementing broadband technology opportunities. Virginia has been working for several years in this area, and the governor has proposed significant additional funding to enhance connectivity across the state.
The sixth, and of importance to all government operations, is budget, cost control and fiscal management: strategies for savings; reducing or avoiding costs; and dealing with inadequate funding and budget constraints.
An area where VITA continues to focus and make improvements is seventh -- customer relationship management. CIOs are concerned about building customer agency confidence, trust and collaboration; internal customer service strategies; and service level agreements.
Continuing to priority eight, CIOs selected data management and analytics, including data governance; data architecture; strategy; business intelligence; predictive analytics; big data; and roles and responsibilities. Virginia has established the position of chief data officer and we are making progress.
Priorities nine and 10, also areas of focus in Virginia, are enterprise IT governance and identity and access management. VITA establishes governance across the enterprise and for identity and access management.
As you can see, CIOs across state government have priorities similar to Virginia. Our state leads in some areas and has work to do in others. We can and do learn from other states, and share our knowledge to ensure IT meets the business needs of the commonwealth.
This is the first time in many months that I have not discussed the IT infrastructure services program in this space. VITA successfully moved the commonwealth to a multisourced infrastructure environment last month. I will continue to provide information as we work with agencies and our suppliers to enhance existing services and discover opportunities to provide new services in this new era of technology for the commonwealth.
Nelson
VITA moves to new era of IT for the commonwealth
CAMs, BRMs serve agencies in new environment
The roles of VITA's customer account managers (CAM) have changed. They will move from handling day-to-day operational functions to strategic roles. In the new information technology (IT) multisourced infrastructure environment, CAMs have significant strategic responsibilities in support of agencies:
Account management, governance and oversight
Management of overall customer satisfaction
Participation in IT strategic plan development as part of the budget cycle
Effective resolution of escalated issues and service challenges
Customer escalation outside of the infrastructure environment
Science Applications International Corporation (SAIC) has 12 business relationship managers who will complement the work of the CAMs by working on agencies' day-to-day operational matters. Seated, left to right, are Shaunda Triggs, Bob Norbeck, Jenny Barry, Merritt Reagan and Kristin Downer; and standing, left to right, are Tim Lawson, Reid Kastner, Petric Capers, Jan Beach, Matt Davis, Rusty Murphey, Bill Boggs. SAIC is VITA's multisourcing service integrator in the new multisourced infrastructure environment.
Multisourced infrastructure environment now in place
In December, the Commonwealth of Virginia successfully transitioned to a fully multisourced IT infrastructure environment.
The infrastructure, which includes data centers, networks, servers, routers, email, voice, data, security, mainframe and personal computing (end-user) services for approximately 56,000 state employees, previously was provided by one supplier under a long-term contract.
The new environment features a multisourcing service integrator (MSI) and seven suppliers with shorter-term contracts. Infrastructure contracts have been awarded over the past two years to new suppliers. Science Applications International Corporation (SAIC) assumed the role of MSI. SAIC will coordinate and monitor activities of other suppliers, and will be the main resource for interaction with VITA. Other suppliers and services they will provide in this new environment include:
Atos – Managed security
Iron Bow – End-user services
Perspecta – Mainframe
Tempus Nova – Messaging
Unisys – Server/storage/data center
Verizon – Data/voice network
Xerox – Print services
SAIC had been providing all infrastructure services since Aug. 17, when the commonwealth ended its contract with the previous supplier. Tempus Nova and Perspecta also have been providing services. Over the weekend, SAIC moved into the MSI role and the five additional suppliers began providing services.
VITA now will work with suppliers to upgrade services by March 1, and has the goal of improving and implementing new services starting in 2019.
Mark your calendars for COVITS 2019
Dates have been selected for the 2019 Commonwealth of Virginia Innovative Technology Symposium. Save Sept. 4-5 to join your information technology peers. Government Technology sponsors the event, designed to help spread best practices and spur innovation in the public sector. Additional details will be provided closer to the event.
Security conference registration open, call for papers issued
Registration for the 2019 Commonwealth of Virginia (COV) Information Security Conference is now open. The 2019 conference will be held April 11-12 at the Altria Theater in Richmond. The call for papers has been issued and the conference committee will accept submissions until Jan. 12, 2019. Conference and registration information can be found on the link below.
2019 COV Information Security Conference information
Register for the COV Information Security Conference
Northam makes appointments to 9-1-1 Services Board
Gov. Ralph Northam has announced a number appointments to the 9-1-1 Services Board. The 9-1-1 Services Board supports and assists provisioning 9-1-1 operations and services, assists in the development, deployment and maintenance of an emergency services network. VITA collects and distributes the 75 cent 9-1-1 fee on phones, and provides strategic planning and support regarding emergency communications to localities. Individuals appointed to the board include:
Mary M. Blowe, chief financial officer and director of support services, City of Winchester
Scott Garber, fire chief, City of Staunton
Lee Miller (reappointment), major, Virginia State Police
Seth Weise, vice president of sales for the Mid-Atlantic, Sprint
Kelvin Wright, chief of police, City of Chesapeake
Jolena Young (reappointment) – 911 coordinator, Twin County 911 Regional Commission