January 2018
Volume 13, Number 1
From the CIO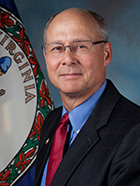 CIO Nelson Moe
This past year - 2017 - was an historic year for the Virginia Information Technologies Agency (VITA). It has been quite a journey and it's not over.
We have moved forward with resolve to implement a new way of delivering services to our customers. We have managed the ups and downs of implementing our new model and we have even managed to break some of our old bad habits! We have done all this while keeping the lights on, serving our customers and working with our stakeholders. The year was hectic and, at times, exhausting.
We are making incredible progress and it's because of the joint efforts of agencies, VITA staff, other stakeholders and our suppliers. Let me recap some of our accomplishments and the opportunities we've realized:
Messaging - Tempus Nova planned and executed the move of 250+ core IT users to the new system, and has developed plans to transition remaining users this month through March.
Mainframe - DXC took over IBM mainframe services in place and is planning to move services to its Clarksville, VA, data center with backup in Colorado early this year.
Multisourcing Services Integrator - A contract was awarded to Science Applications International Corporation (SAIC) to oversee the multisourced environment. SAIC is working with VITA to plan the transition to a new environment.
Managed security services - The request for proposals (RFP) process is coming to a close and I expect to sign a contract in the early part of the New Year. More details to come on this project.
Server/storage - An RFP was developed and released; proposals are being evaluated.
End-user services, hardware and print - A request for proposals was developed and released; bids are due Jan. 4.
Voice/data/network - VITA is negotiating with an existing supplier with a current contract for these services.
Behind each of these successes are countless hours of preparation and input by staff from VITA and across state agencies. We have built RFPs, conducted contract reviews and negotiations, awarded contracts and transitioned suppliers. Step by step we are building a new services delivery model and we are making great progress in achieving our vision.
We made this progress in spite of resistance from those who do not want to change and the critics who believe we are not up to the task of moving to a multisourced infrastructure environment prior to the end of our current contract. We've made mistakes along the way and learned from them. The experienced professional realizes there is no real change without effort and error.
Overall it's been a year of change and progress. Additionally, VITA itself is changing to adapt to the new model.
This year also will be a year of change and progress. What's our vision for 2018? We will continue on the path we've started with a focus on five big goals:
Implement our new service delivery model by December 2018
Disentangle all services from our current supplier by December 2018
Change VITA's organization to reflect a focus on managing the services platform
Connect and engage with agencies to meet their business needs in the new platform service delivery model.
Continue to provide cost-effective IT services that meet commonwealth standards (i.e., security, architecture, procurement).
This New Year will test us as we continue on this path. Disentanglement is intricate; however, we are well on our way to implementing a multisupplier environment. We have made substantial progress developing a new governance model, which will be a significant change in the way VITA and state agencies conduct the business of IT. The platform relationship office (PRO) functional roles have been developed and that organization's initial formation is underway. Changes are taking hold.
Our pace will not ebb and neither will VITA's resolve as we continue the journey into 2018. I am confident we are up to the task and this year is going to be a great year!
Nelson
Security conference set, call for papers issued
The 2018 Commonwealth of Virginia (COV) Information Security Conference dates are set and the call for papers issued. The 2018 webpage is now live. The conference will be held April 12-13 at the Altria Theater in Richmond. Keynote speakers include Dr. Deanna D. Caputo, human behavior and cybersecurity capability steward at The MITRE Corporation, and Adam S. Lee, special agent in charge at the FBI Richmond Field Office. Conference and registration information can be found on the link below.
2018 COV Information Security Conference
COV Information Security Conference call for papers
Agencies' customer service and support
Work request forms retired
Two standard forms were retired last month. Standard form 6-002 for hosted mail archiving (HMA) was retired because it was rarely used and because of the upcoming transition of messaging services. Customers wishing to use this service can order it via the custom work request process.
Standard form 6-004 for email data loss protection (EDLP) was retired for the same reasons, and also can be ordered through the custom work request process.
SQL servers to be upgraded
Existing SQL servers will be updated beginning Saturday, Jan. 6, at 10 p.m., and will be finished by Sunday morning, Jan. 7. During the upgrade, agencies and users should refrain from updating passwords as changes will not be captured. Contact your agency operations manager or customer account manager for any questions.
VPN firewall gateway migration scheduled
The tunnels used for virtual private network (VPN) internet protocols (IPs) through the firewall gateway will be migrated to the newest gateway hardware in mid-January. The firewall gateway hardware will be upgraded to a newer SRX 5600 network device. As part of the upgrade, the tunnels through which VPN IPs are channeled will be individually switched to the newer device. Questions can be directed to impacted agencies' operations managers.
Technology management policy review period ends Jan. 5
The updated Technology Management Policy (GOV 105-05) is posted on ORCA for review and comment. The review period ends Thursday, Jan. 5.
The purpose of this policy is to establish guiding principles for creating optimal business value from IT-enabled business investments at acceptable cost and risk. This includes reporting, budgets, sourcing and projects, and overarching responsibilities for technology policy, IT strategic planning, value creation and leadership.
The proposed update is intended to provide overarching guiding principles for use by executive branch agencies and institutes of higher education for the management of IT. Standards are issued to implement this policy and provide specific direction and requirements on particular topics. Guidelines are issued to assist agencies with the execution of standards or this policy.