December 2018
Volume 13, Number 12
From the CIO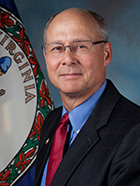 CIO Nelson Moe
Dec. 15 begins a new era in technology for the commonwealth when the multisourcing infrastructure environment is kicked off. After three years of planning, procurement and work with agencies and suppliers, the Virginia Information Technologies Agency (VITA) will implement the new model. I have discussed in this space the hard work and dedication of staff from agencies and VITA who have been involved in this effort. I want to add my appreciation for the support of our new suppliers.
First and foremost, Science Applications International Corporation (SAIC) currently is serving as our infrastructure supplier. On Dec. 15, SAIC assumes the role of multisourcing service integrator (MSI). SAIC will coordinate and monitor the activities of other suppliers, and will be the main resource for interaction with VITA. Other suppliers and services they will provide in this new environment include:
Tempus Nova – Messaging
Perspecta – Mainframe
Atos – Managed security
Unisys – Server/storage/data center
Verizon – Data/voice network
Iron Bow – End-user services
Xerox – Print services
Staff members from these companies have toiled diligently to get to this point. That's not to say there haven't been hurdles, but they are dedicated to providing secure and agile infrastructure services to the commonwealth.
We believe this is the first full enterprise multisourcing infrastructure environment in state government in the country. Two states have some services sourced by different suppliers, but not their entire infrastructure. As we led the nation in consolidating services back when VITA was formed and with our public-private partnership, we are again ensuring Virginia is a leader in state government IT.
I look forward to using this new platform to enhance existing services and look at the opportunities to offer new services to agencies and other government entities served by VITA.
Nelson
Virginia Beach, seven cities honored in Digital Cities Survey
Virginia Beach was honored with the first place award in the 250,000-499,999 population category in the 2018 Digital Cities Survey. The survey, sponsored by the Center for Digital Government, evaluates initiatives by cities to solve government problems with technology.
Seven more cities in the commonwealth also were recognized.
Virginia Beach recently became the U.S. landing point for a 169-terrabit transatlantic fiber and city IT leaders are leveraging that connectivity. The city established its first intercity connection with Norfolk and Chesapeake and now is extending out to higher education where is needed to support research. Internally, the city has been building up its data analytics capabilities, hiring a chief data science officer, bolstering the data science team, and forging new interdepartmental ties to bring data science, geographic information systems, and the database administrators under a common governance model. As a result, department leaders across city government are beginning to leverage data more effectively.
Additional honorees in their population categories include:
Alexandria
Hampton
Lynchburg
Norfolk
Roanoke
Salem
Williamsburg
Read about all the honorees and their projects
Mark your calendars for COVITS 2019
Dates have been selected for the 2019 Commonwealth of Virginia Innovative Technology Symposium. Government Technology sets up the event, designed to help spread best practices and spur innovation in the public sector. Additional details will be provided closer to the event. Save Sept. 4-5, 2019 to join your information technology peers at this special event.
News for state agencies
New VITA service portal launches soon
The new VITA service portal scheduled to launch soon will be built on the new tool called Keystone Edge. The new portal will give users real-time visibility into tickets, easy interaction with the VITA Customer Care Center (VCCC or service desk) and a robust knowledge base. To view a quick demo, click here.
VITA and the MSI transitioned the VCCC service desk and 20 agencies that use the antiquated software tool called VMware Service Manager (VSM) to the more agile and transparent Keystone Edge last month.
Xerox to manage print services beginning Dec. 15
Xerox will assume existing print services, provide a comprehensive managed print services environment, and offer a variety of devices and capabilities (e.g., workgroup, multifunction, scanning, mobile print). All existing managed print services agreements will continue until contract expiration. Upon completion of those agreements, VITA expects all services will be provided under the new VITA agreement with Xerox. To help clarify what this means for agencies, please see the high-level summary of what to expect below:
Now until Dec. 15
All newly proposed managed print services agreements should be put on hold. VITA will not approve these agreements.
Individual networked attached device work orders that are required by the executive branch agencies should be put on hold.
Dec. 15 to March 1
The existing VITA-owned networked printer fleet will be maintained by Xerox, with the addition of some supplies included at no charge (staples are included; paper is not included).
Agencies should contact the VITA Customer Care Center (VCCC or service desk) at vccc@vita.virginia.gov or (866) 637-8482 for printer suppliers, device service requests and inventory move and changes. Please use all existing supplies on hand prior to placing new orders.
Agencies will continue to call VCCC for incidents (break/fix).
After March 1
Printer supplies, such as toner for printers and multifunction devices, will be pro-actively monitored and automatically replenished. Agencies do not have to call for replenishment.
Agencies will continue to call VCCC for break/fix incidents. Please direct questions to your agency operations manager.
Budgeting software expanded to enterprise license
The BIDS software license has been expanded to an enterprise license. The BIDS platform was used to develop the commonwealth performance budgeting system. The license expansion allows any state agency or institution of higher education identified in the Commonwealth of Virginia budget bill to utilize the software for implementation of budget, performance management or strategic planning applications without purchasing additional software licenses or paying ongoing software license maintenance fees.
The BIDS software allows users to utilized original nomenclature rather than forcing them to adapt to terminology used by commercial software packages. Services to implement and support applications using BIDS are available on the performance budgeting state contract (VA-090724-PPC).
2019 security conference registration open, call for papers issued
Registration for the 2019 Commonwealth of Virginia (COV) Information Security Conference is now open. The 2019 conference will be held April 11-12 at the Altria Theater in Richmond. The call for papers has been issued and the conference committee will accept submissions until Jan. 12, 2019. Conference and registration information can be found on the link below.
2019 COV Information Security Conference information