August 2018
Volume 13, Number 8
From the CIO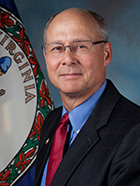 CIO Nelson Moe
A new era in technology for the commonwealth begins Aug. 18 when Science Applications International Corporation (SAIC) assumes responsibility for all infrastructure services.
SAIC's walk-in, take-over as provider of all infrastructure services continues for four months. On Dec. 15, the Virginia Information Technologies Agency (VITA) will implement a multisupplier environment for infrastructure services. SAIC will assume the role of multisourcing service integrator (MSI).
Between Aug. 18 and Dec. 15, agencies that use VITA's infrastructure services should see minimal impact. The walk-in, take-over by SAIC is being carefully planned through the transition assistance program (TAP) to be as non-disruptive as possible to agencies' business operations. Most of the faces of information technology support staff will be the same because SAIC is recruiting Northrop Grumman employees. This will aid in knowledge transfer. The VITA Customer Care Center (VCCC) email address and phone number will remain the same. The work request process will remain the same.
Work is nearly complete on operational assumption plans (OAP), which capture information such as staffing, service requirements, critical elements, tools, documentation and reports. It also identifies strategic transition information about service gaps, risks, opportunities for efficiencies and key performance indicators.
While we are striving to be as non-disruptive as possible, we are having challenges. There is a backlog of queries to the VCCC. Work requests can't be completed by the end of the current contract. Personal computer refreshes will not be completed, and eVA, server/virtual server and telecommunications/circuit requests may not be filled. VITA is actively tracking and solutioning these issues.
We are facing challenges, but we also are seeing successes. Three of the six contracts have been awarded to suppliers; each supplier is making progress.
Perspecta has assumed mainframe services. This weekend, the company will move the mainframe providing services to 13 agencies from the Commonwealth Enterprise Solutions Center in Chester to its Mid-Atlantic Data Center in Clarksville, VA, with backup in Colorado Springs, CO.
Tempus Nova has implemented several offerings of Google's G Suite to 55,000+ state employees for email, contacts and instant messaging. VITA has conducted Gmail enhancement forums. The input from those forums was used by VITA's Customer Advisory Council to select the top five items for VITA staff to consider for implementation.
Atos is working with VITA to finalize the managed security services (MSS) project plan. VITA, with the help of agency representatives, is nearing completion on procurements for end-user, hardware; voice, video, network services; and server, storage, data center services.
VITA is setting up the new infrastructure governance structure that will involve agencies in all aspects of decision making in the new multisourcing environment.
When the multisourcing environment is implemented on Dec. 15, there will be new tools for use by agencies and front-line staff. We will provide training and will communicate with agencies frequently in the months ahead. After we establish the new environment, we then can begin to consider enhancements to and expansion of our services. Our goal, as I continue to state, is to provide agile services at market rates that offer opportunities for enhancements.
We may encounter glitches as we make all these changes. But starting a new era where we are moving to a multisourcing environment serving 55,000 users at 2,200 sites with more than 130,000 assets can be a daunting task. I ask for your cooperation and patience as we step into this new era, which offers the next generation of infrastructure for the government of the Commonwealth of Virginia.
Nelson
Virginia counties honored in national digital survey
A number of counties across the Commonwealth of Virginia ranked in the top 10 in the 2018 Digital Counties Survey.
Arlington County took first place in the 150,000-249,999 population categories. Arlington County CIO Jack Belcher organized public gatherings focused on "Defining Arlington's Digital Destiny." Arlington's survey reported information from the meetings that has directly influenced the county's IT agenda. Projects developed from the meetings include deployment of a countywide fiber optic network, providing free broadband access to people in affordable housing, and creating a project-tracking application to inform residents of civic undertakings.
Additional Virginia counties placing in the top 10 include:
1 million or more population category – Third place, Fairfax County
250,000 – 499,999 population – Second place, Chesterfield County
Up to 150,000 population – Second, Albemarle County; fourth, Montgomery County; fifth, Roanoke County; tie for sixth, Franklin County and York County; and 10th Gloucester County
The Center for Digital Government and the National Association of Counties (NACo) conducted the survey. It "identifies the best technology practices among U.S. counties, including initiatives that streamline delivery of government services; encourage open data, collaboration and shared services; enhance cybersecurity; and, contribute to disaster response and recovery efforts."
"Innovative counties are utilizing technology and data to better inform and protect themselves and their citizens, to save taxpayer money and to provide a better citizen experience," said Teri Takai, executive director, Center for Digital Government.
Read about all the winners and their projects
COVITS set Sept. 5-6; registration open
Registration for the 2018 Commonwealth of Virginia Innovative Technology Symposium (COVITS) is now open. COVITS will be held at the Richmond Convention Center Sept. 5-6.
Three guest speakers will provide motivating, informational and entertaining presentations:
Clay Jenkinson, writer, historical performer and Theodore Roosevelt scholar, has devoted most of his professional career to public humanities programs. His performances are humorous, educational, thought provoking and enlightening, while maintaining a steady focus on ideas.
Michael Hakkarinen is instructional technology specialist in the Utah Education Network. He specializes in helping teachers engage students in the classroom with technology such as Mac Tools, Google Apps for Educators, iPads and more.
Christina "CK" Kerley is and futurist innovation speaker and specialist. She focuses Fortune 500s on the 10+ tech of the next 10 years. She is a powerhouse of next-level content, "edu-taining" delivery and razor-sharp insights.
The Governor's Technology Awards will be presented. In addition, Gov. Ralph Northam, Secretary of Administration Keyanna Conner and CIO of the Commonwealth Nelson Moe are on the program as are presenters on the following topics:
Cyberthreat Landscape
Cloud and DevOps
Blockchain Use Cases
Strategies for Smart Communities
The Citizen Experience
Easing the Pain of FOIA and e-Discovery
Election Security - The Epitome of a Cyber Challenge
Emergency Response Trends and Technologies
AI Update
Predictive Analytics and Why It Matters
About Innovation…
COVITS is open to the public sector only, including IT professionals from state, county, city and town governments and public educational institutions. IT businesses sponsor the event and have informational booths in the exhibition hall.
What's in a Number?
61 or 63?
63 agencies in scope to the IT infrastructure program. That number included executive branch agencies, the governor's office and the secretariats.
To be more accurate, VITA now is using 61 as the official number of agencies served by the infrastructure program. This is the result of the merging or eliminating agencies.
So, what's in a number? Accuracy in reporting. So, 61 it is.
News for state agencies
ITISP dates of note
Several dates over the next three months are of significance to the information technology infrastructure services program (ITISP):
Aug. 4-5 – Mainframe move from CESC to SAIC's Mid-Atlantic Data Center in Clarksville, VA, with backup in Colorado Springs, CO
Aug. 17 – IT infrastructure services contract with Northrop Grumman ends
Aug. 18 – SAIC begins providing IT infrastructure services
Aug. 18 – Southwest Enterprise Solutions Center disaster recovery data center moves to Manassas
Nov. 12-17 – Mainframe disaster recovery exercise
Dec. 15 – Multisourcing infrastructure environment implemented; SAIC assumes MSI responsibilities
Mid 2019 – Service enhancements begin
Agency reps invited to 'Service Innovation Journey' workshops
Late breaking: Registration has ended because the sessions are full. However, a waiting list is being maintained for a potential second set of workshops and future workshops planned to seek agency input.
A new service management system will be implemented this fall. It is designed to enhance delivery, transparency and efficiency with the implementation of the infrastructure multisourcing environment. A key component is obtaining input of agency staff to increase the ease of doing business with VITA when SAIC assumes the MSI role. To obtain input, VITA and SAIC will host a ​"Service Innovation Journey" – a series of four workshops – in August and September.
VITA Service Innovation Journey Registration
Disaster recovery drill to be replaced with validation activities
VITA and its disaster recovery subscribing agencies have agreed the annual disaster recovery exercise to test the current environment, initially scheduled Aug. 6–14, will be replaced with the validation activities after the Southwest Enterprise Solutions Center disaster recovery data center move to Manassas on Aug. 18. The change enables agencies to meet annual disaster recovery requirements at the same time they are validating servers and applications in the new environment. Additional information about the validation schedule and activities will be provided. Agencies can expect to need validation resources available at some time during mid-August to the end of August. This validation does not involve mainframe subscribers, who have a disaster recovery exercise Nov. 12-17.