April 2018
Volume 13, Number 4
From the CIO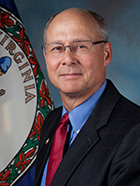 CIO Nelson Moe
VITA generally is known for its information technology infrastructure, security, project management and other technology services, policies and standards. However, there's one area of service we provide that is less well-known but impacts every citizen in the commonwealth – our work with and support for emergency communications and aerial mapping through our integrated services program.
To continue our support, VITA will conduct statewide training events for telecommunicators. The training, titled "Critical Incident Stress Management" (CISM), will be held this month. This training, coordinated by VITA and the Virginia State Police, is free of charge to the localities.
CISM is an adaptive, short-term psychological helping-process that focuses solely on an immediate and identifiable problem. It can include pre-incident preparedness to acute crisis management to post-crisis follow-up. This training is provided for the telecommunicators in the public service answering points (PSAP), providing education about CISM, getting closure, identifying a need for debriefing and awareness of the resources that are available. The training also will provide a insight into behaviors that may indicate that someone may need a debriefing session.
All events require registration and the training times are from 9 a.m. to 1 p.m. Lunch is not provided and will be on your own after the training has ended.
The dates and locations are as follows:
VITA is pleased to provide this training, and proud of the work we do with emergency communications and mapping to assist police, firefighters, emergency services technicians and others in every locality across the commonwealth and in state agencies.
Nelson
Agencies transition to Google
All executive branch agencies have officially transitioned messaging services to Google. More than 45,000 individuals transitioned on Monday, March 26. Employees are encouraged to visit the messaging G Suite support website to ensure a continued, smooth transition. Frequently asked questions and common troubleshooting tips are posted on the site to save users time.
Messaging G Suite support site
Managed security services contract awarded
VITA has awarded a contract to Atos to provide managed security services to executive branch agencies.
Atos will be responsible for security incident management, digital forensic investigations, response preparedness, and security monitoring, log management and analysis. Atos will also provide services such as desktop and server encryption, intrusion protection, firewall and antivirus, network intrusion protection, data loss prevention, web vulnerability scanning, three levels of web content monitoring and three levels of web application firewall, and identity and access management.
Atos is a European IT services corporation headquartered in France, with offices worldwide. It specializes in high-tech transactional services, unified communications, cloud, big data and cybersecurity services.
Security conference registration ends soon
Registration for the 2018 Commonwealth of Virginia (COV) Information Security Conference ends Wednesday, April 4. Spots are still open, and it's not too late to register.
This year's conference will be held April 12-13 at the Altria Theater in Richmond. Keynote speakers include Dr. Deanna D. Caputo, human behavior and cybersecurity capability steward at The MITRE Corporation, and Adam S. Lee, special agent in charge at the FBI Richmond Field Office. Also speaking will be Secretary of Administration Keyanna Conner. Conference and registration information can be found below.
COV Information Security Conference details
NG9-1-1 webinar scheduled
A webinar enabling local government procurement officers and decision makers to learn about the NG9-1-1 Core Services Solutions contract has been scheduled for Wednesday, April 18 at 2 p.m. Attendees will be able to learn more about the NG9-1-1 contract issued by Fairfax County and how to deploy NG9-1-1 in individual localities.
Customer solutions and support updates
A number of updates have been made to work requests and form attachments. Updates include:
Sourcing transition and work requests:

Processing of work requests will be limited to reduce the quantity that must be transition from the current infrastructure provider to the new service suppliers in the last quarter of 2018. The objective is to avoid transition related risks where possible. Work requests should be submitted as soon as possible so that they can be completed prior to this transition period.
A schedule is being developed detailing dates when VITA will start limiting the processing of work requests. Processing of work requests will continue after these dates only if deemed critical.

Standard form attachments: Several standard forms require a completed attachment for implementation of the service. Please include the completed attachment when submitting the standard form. Missing attachments or incomplete attachments will cause a delay in processing the form.
Implementation issues and information: Please include the assigned work request project manager on all communications related to implementation. This includes schedule adjustments, additional information and concerns. The work request project manager is assigned shortly after a work request enters the implementation phase. The work request database contains this information. If the project manager field is not populated, contact the VITA OneStop mailbox or your AOM.