August 2019
Volume 14, Number 8
From the CIO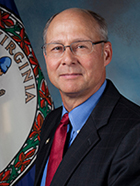 CIO Nelson Moe
After four years of planning and implementation, our multisourced infrastructure platform is in place and we are closing out the information technology infrastructure services program (ITISP). I say "our" because this achievement resulted only because of the input and efforts of staff at state agencies, determination of VITA staff, work of suppliers, and advice and counsel of many interested in the success of this complex project.
This is a momentous event in the life of information technology (IT) for the commonwealth. We now have suppliers in place that are more responsive. We have governance in place that includes representatives from agencies as we determine how to make the best of the new multisourced infrastructure model. We have knowledgeable and dedicated VITA staff to oversee this effort. All of us are committed to the development of an agile, responsive and reliable IT system that meets the needs of the commonwealth.
This journey has not been without its challenges and we still have work to do, but the foundation is in place.
I extend sincere appreciation to all who have contributed, in large and small ways, to moving the commonwealth to a new generation of IT.
Nelson
VITA names chief operating officer
Jonathan Ozovek, former chief operating officer (COO) of GetSwift, has been named the new COO for VITA, effective Aug. 12.
As COO of a publicly-traded start-up company on the Australian stock exchange, Ozovek was responsible for all company operations, including the sales, human resources and technology departments. He was selected following a nationwide search.
Ozovek will serve as a primary advisor to the CIO, providing counsel to executive level management on a broad range of operations, customer service, IT management and financial issues. He will manage VITA's customer service and investment governance, IT infrastructure service program operations/projects, IT platform governance, IT finance, supply chain management (contracts), and application and enterprise services.
In addition to experience with health care, financial and technology companies, Ozovek holds a bachelor of science in computer science and accounting from the University of Scranton, a master's in business administration from Marist College, and is currently a Ph.D. candidate in organizational change methods at the University of the Cumberlands.
Information for state agencies
Mainframe disaster recovery exercise set
VITA will conduct a disaster recovery exercise Aug. 5 – 13, for mainframe services. The exercise for the agencies using remaining disaster recovery services is being planned for later in the year.
New services being ordered through new service catalog
The VITA service catalog is functional for those with commonwealth credentials. Purchase of new services totaled 180 items the first week of July and 157 the second week. The most popular items were personal computers, including EliteBook 1030 G3, HP EliteBook 840 G5, Dell Precision 5530, HP EliteBook 850 G5, HP ProDesk 600 G4. These numbers represent new services only, and not services that existed before July 1 when the new online catalog was launched. Non-commonwealth users can find a static version of the catalog on the VITA website and can contact the VITA customer care center at (866) 637-8482 or vccc@vita.virginia.gov to place an order.
Technology business plan update available
The 2019 update to the Commonwealth of Virginia Technology Business Plan has been posted to the VITA website here. The plan presents an enterprise-wide, technology-focused business plan as the foundation of successful IT strategic planning. This edition updates the environmental considerations and desirable plan attributes that underlie the plan's development. The seven original initiatives have been reduced to five, updated and renamed technology business strategies to better provide action-oriented strategic guidance.
Updated electronic media data removal standard posted
The updated Removal of Commonwealth Data from Electronic Media Standard (SEC514-05) is posted here. It defines minimum requirements for commonwealth agencies to remove electronic media. The update of the standard improves the minimal requirements by removing old technology references and providing current guidance on removing commonwealth data on electronic media.
AITR presentations posted online
Copies of the presentations for agency information technology resource (AITR) meetings with the CIO and VITA staff are always posted by the morning of the meeting at VITA COV intranet > AITR meeting documents or here.
Also, at last month's AITR meeting, attendees asked if the agencies could be provided a crosswalk of FY19 to FY20 services and rates. The crosswalk is available here.
Secret question two-factor authentication option removed from Okta applications
The secret question option of two-factor authentication has been removed from all applications using Okta effective Aug. 1. The option was removed to make the two-factor authentication process more secure when signing in to Okta applications outside of the Commonwealth of Virginia (COV) network.
Current two-factor authentication methods are:
Have an authentication code sent to a business or personal phone
Use the Google Authenticator app on a business or personal phone to receive an authentication code
Have an authentication code delivered via call to a pre-determined landline or mobile number
More information can be found on the G Suite support site.
Eight Virginia counties honored for digital achievements
Eight Virginia counties are in the top 10 in their respective population size category in the 17th annual Digital Counties Survey. The top counties nationwide are honored because they "stand out for their commitment to using tech to improve quality of life, shore up cybersecurity, support municipal resources and more."
Virginia counties ran away with awards in the up to 150,000 population category, garnering five of the top 10 honors.
Winning Virginia counties include:
250,000-499,999 population category
2nd place - Chesterfield County
6th place - Loudoun County
150,000-249,999 population category
2nd place - Arlington County
Up to 150,000 population category
3rd place - York County
4th place - Albemarle County
5th place - James City County
6th place - Gloucester County
10th place - Franklin County
The survey, conducted by Center for Digital Government and the National Association of Counties, identifies the counties with the best technology practices, including initiatives that streamline delivery of government services, encourage collaboration and shared services, enhance cybersecurity and contribute to disaster response recovery efforts.
The center's press release can be found here. An article with a longer assessment of each county's digital status can be found here.
Project management summit scheduled Nov. 6
The eighth annual VITA project management summit has been scheduled for Wednesday, Nov. 6. The summit will be held at a new location, the Nicolas Conference Center, 13101 Jefferson Davis Highway, Chester, Virginia, 23831. This year's theme is "back to the basics."
In today's marketplace, and particularly within IT environments, predictability is anything but the norm. Managing IT projects is characterized by complex, interconnected systems, projects that span the agency or even enterprise, constantly changing business needs, stakeholder demands, and constrained resources. As a direct result, managing IT projects continues to be increasingly challenging.
To be a success, a project has to be delivered on time, on scope, within budget. The summit promises a full day of networking and educational opportunities to refresh the fundamentals of challenging project management jobs.
Tuition for the summit is $90, and participation counts for 0.85 continuing education units. Registration for the summit is now open and runs through Nov. 5. Register here.
COVITS registration still open
It's not too late to register for the 2019 Commonwealth of Virginia Innovative Technology Symposium (COVITS). COVITS is scheduled Sept. 4-5 at the Greater Richmond Convention Center.
Communications strategist and motivational speaker Kelly Swanson will deliver the opening keynote address. Morgan Wright, senior fellow at the Center for Digital Government, is on the agenda as the featured speaker.
Registration and event information can be found here. Check the website frequently as additional information will be added as the agenda is finalized.
VITA hosting procurement training
VITA is hosting procurement training at the Commonwealth Enterprise Solutions Center (CESC) on Friday, Oct. 25.
The class is designed to give an in-depth look at VITA's tools, forms and guidelines when conducting information technology procurements; and VITA's contractual terms and conditions when conducting information technology procurements. Discussion topics will include indemnification and liability, warranties, escrow and intellectual property rights, and security and cloud requirements when conducting information technology procurements.
Seating is limited. You can register here.