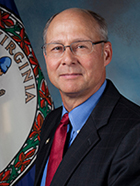 Nelson P. Moe is the chief information officer (CIO) of the commonwealth and leads the Virginia Information Technologies Agency. He was appointed by Gov. Terry McAuliffe effective June 8, 2015.
He is a high-energy, results-driven information technology (IT) executive with a track record of superior leadership in enterprise organizations. He has the ability to adapt and succeed in highly complex, fast-changing cultures and to establish the environment for team success.
His current duties include managing the commonwealth's IT infrastructure services, IT governance for commonwealth IT projects and procurements and cybersecurity protection of the commonwealth's data.
CIO Moe's experience prior to coming to the commonwealth includes serving as CIO for the U.S. House of Representatives. In that position, he was responsible for the IT vision, enterprise strategic planning, budget implementation, cybersecurity operations and risk posture, business continuity management, IT services and project management for the members, leadership, committees and staff of the House of Representatives. His career at the House started in February of 2001 and spanned 14 years of increasing positions of responsibility.
Prior to his time at the House of Representatives, CIO Moe finished a career in the U.S. Navy as a nuclear submarine officer and then worked in the private sector for several small companies and IT startups. Before he came to the commonwealth, he advised several small IT/cyber companies on service development.
Moe holds a bachelor's degree in applied mathematics from the U.S. Naval Academy and graduate engineering degrees from both The Catholic University and George Washington University.
CIO Nelson Moe's Strategies for 2019-22